I was forced to replace my laptop recently, and I took it as an opportunity to test out Clip Studio Paint, as I already have a license for it.
Clip Studio, for those who don't know, used to be Manga Studio. It is a Japanese program designed for making comic books. I tried to use it to make Alphabeasts, but alas, it does not make PDFs without A) the Japanese version (which I don't have) and B) a paid plugin for said Japanese version.
But drawing and making comic books is what it's made for, right?
Well, it works. I like the sleek, smooth lines the inking tools give. I like how buttery and fluid the paint feels. I was very frustrated by the hotkeys and workflow, but that's to be expected when using a new program. To a degree, you can customize it, and to a degree, you just have to learn it.
So I tried making a comic page. It was bad. My hand was cramping, and my spirit rebelling with every line. On a whim, I tried reproducing the picture by hand, using pencils and inks.
Whereas the pain of forcing the computer to do what I asked caused me to eliminate every line I felt I could do without, the sheer joy of using the Tombow brush pens, by contrast, led me to adding detail and artistry above and beyond. But the digital art had a couple of advantages.
Advantage 1: I could find reference and even trace it.
Advantage 2: I could move, rotate, scale, and skew art I was kind of, but not completely, happy with. Of course, this is easier for me in Krita because instead of having to select the portion I want to distort, and then apply a distortion grid, I can just grab a distortion brush and drag my lines about.
So I tried a new process: pencil in Krita in low resolution, convert the pencils from black and white to cyan and white, print them out, and ink over it with physical inks.
I had no intention of hand-lettering the speech bubbles when I started this process. I just put the text in because:
I want to plan images and text together so that the story does not rely on the writing or the art, but it all works together
I want to be able to create a rough draft of the whole comic, send that out to testers and readers, and make drastic changes to the comic before I put any huge effort into the art.
But, since the text was part of the art that I was cyanifying and printing, I had the option of hand-lettering it. So, as I was doing the test, I hand-lettered the dialogue. And you know what? I like it. I think I'm going to keep doing it that way.
On the reccomendation of a comic artist I respect, I also tried out a new paint brush (A Winsor & Newton Series 7). Unfortunately, I clearly need a lot more skill with it before I can use it for production, or really judge its effectiveness.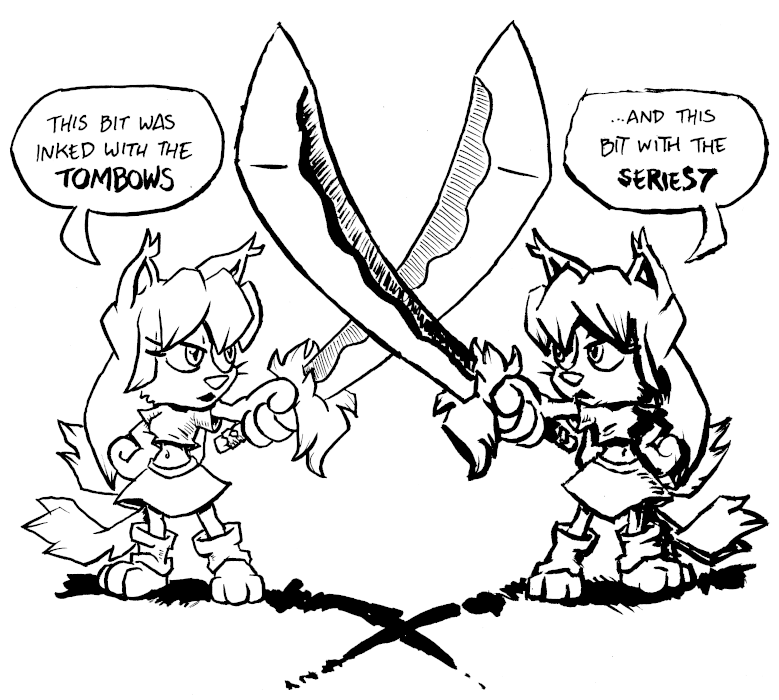 Clearly, my inking with the brush resembles a monkey with a Q-Tip. Since the art of the guy who recommended the tool does not resemble a monkey with a Q-Tip, but is in fact better than mine, I must conclude it is not the tool but the user. But this user has a tool with which he can get some of the results he wants, so I'm going to go ahead with that.
So that is all the production tests. I am now ready to make this comic book!
I have to move to another State over the course of the next week. After that, the process is to finish the storyboards, to send the storyboards to be proofread, to make my corrections and modifications, and then to produce the comic book. Along the way, I intend to run a Kickstarter. I may begin production on a different children's book in between the first draft and the last. I may, in fact, interleave books like this so that I can get some distance from my drafts and correct them according.
So that's where we sit at the moment. In about a week, it's pedal to the metal.