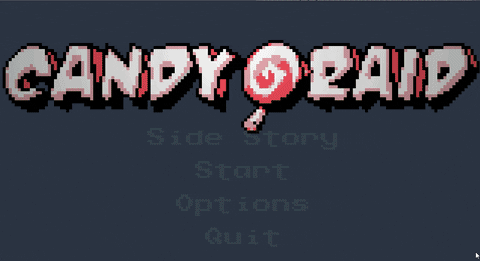 Put together a forest tileset in one day, added a couple of refinements to the platforming controller. Candy Raid: Side Story is still in the tinkering phase. However, I decided to stick to one shot type (the star), and one small "world" (Just the forest). When I switch to "draft" mode, the goal is to create a series of puzzles that reward you with candy, and a victory condition that requires some (but not all) of the candy. I feel like I'm done tinkering with this for now, though.
Yesterday, I had a small epiphany.
When I make a 'screen' for my Dragon Egg graphics, it consists of two parts: a background that I just draw full size, and a foreground I assemble from tiles. You can kind of see how it works in this gallery:
Making "fullscreen" backgrounds in 160×90 with only four colors is… very doable. I get a lot of fun out of coming up with interesting forms and arrangements, 'Seussian' proportions, etcetera. And this reduced level of details keeps me from getting bogged down.
Which got me thinking. I made static, painted backgrounds for my JRPG demo a while back…
What if I made my JRPG as a dragon egg game? What if the reason I never got anywhere with the prototype was I got too bogged down in the graphics, both the creation of HD graphics, and the busywork of making them behave in Unity?
Today, I tried recreating my RPG background in 160×90 with the Rainboy palette, and dropped some Cache Miss/Crossover Arcade characters on it to see if it would work as a comic backdrop, and…
You know what? I think I'm going to make Cache Miss settings just like this, unless I specifically need a tileset for a platformer like Candy Raid: Side Story. And I think this week's objective is to tinker a prototype of a Dragon Egg JRPG.
I'm also gonna scope back. We'll make the first Last Legend not a Final Fantasy sendup, but a Dragon Quest sendup, with only one protagonist, the Dragon Warrior.
If the engine works and is fun, we'll do an Itch release, and then think about Kickstarting HD editions with hand-drawn art.
This week, my main objective is to push towards getting a day job. My secondary objective is to tinker, presumably with a Dragon Egg RPG, and my tertiary objective is to build up Cache Miss backgrounds, sprites, and strips, so that I can launch the comic in the next few months.