We last left our embryonic RPG with a campfire scene that had a bunch of blocks with faces, and the understanding that we'd bring this into Unity and talking to those blocks would allow us to alter the screen, the volume, perhaps the controls.
I took a brief break to figure out what those blocks are, since smiley face blocks are a constant in a video game world. I decided they were a coral-like therian that leave their cubic shells scattered about the landscape. Then, I drew up an illustration for my bestiary, and realized that to introduce my bestiary within the comic, I needed a sprite for Dr. Eli Stump, which means I needed a design for Dr. Eli Stump.
So, today, my primary task for the next couple of hours is to bring my scene into Unity and get music, sounds, and option menus working. And then, after hours, my task if I find time is to make a Dr. Stump sprite, and a comic/bestiary entry for the capdjak.
Let'sa go!
Step 1: separate out all the mockup elements. Import them into Unity. Make a capdjak interaction sprite.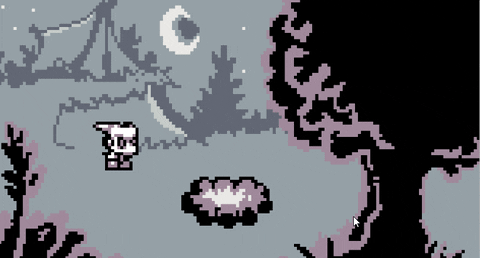 Okay, we've got a start. Irritatingly, I find the fact that I've created a small world that lives and breaths, even if it's a two-frame fire look, intrinsically entertaining. Ye gads.
Well, I've got 20 minutes left, and the big thing to do is create a choice dialogue that allows two or three or even more options.
Yeah, I'm not gonna get that done today. But if I pull it off tomorrow, even though I haven't set up the sound system, I'm still in a good place pick up where I left off in a couple of months.