The PDF of the Awesome Moments draft is done and can be downloaded here. Right now, I've just posted it to my subscribestar on a public post (so you don't have to offer me money to get it).
Awesome Moments 1, maybe all of Awesome Moments, was always meant to be freely available to anyone. I want money, yeah, but I want people to have easy access to my religion even more. I think ultimately, the PDF of the finished book is going to be available on gumroad or something.
Yesterday I slept through my alarm and, being between tasks on the Awesome Moments project, made some half-hearted stabs at setting up the Kickstarter. There's going to be a hiccup in the process of getting that going: despite it being several months since moving states, I still don't have a lot of paperwork sorted out. So I guess getting my paperwork sorted is now officially working on my book!
Proofs are in the mail.
I included 4 'blank' pages at the end of the proof, in case I decide I need to insert more pages to make the book work. Any more than 4, and I have to remove pages to get pages. Ideally, they remain blank, and I can use them in future prints to advertise the later books in the series.
But my brother suggested that any blank pages at the back of the book be turned into coloring pages. "Kids are going to color in books either way. Might as well have an officially sanctioned place for 'em to do it," he reasons.
Well, it's not a terrible. idea. In fact, I would like to make coloring books. I have avoided doing so thus far simply because I've yet to dig out a POD service like unto KDP in ease of use, and because everything I've made doesn't naturally fit that format without extra work.
I broached the idea of making storybooks and just not coloring them on twitter and someone suggested the obvious thing I was missing:
Duh.
I'm not sure if I'm going to take that tack with Awesome Moments 1, or wait until my next book. It's a tiny bit of bonus work, but it may be worthwhile just so I can sell a version of the book for $4 instead of $12.
I always get hung up on the price of my products. I should charge top dollar and make it worth my while, but I'm podunk, born and bred, and I want my people to be able to buy my stuff.
Today, I made this abomination:
I've been assuming for a while I can make a pixel art game, and then swap in HD graphics and just change the pixels per unit, and Unity would gracefully just use it.
But, no. This does not happen.
Instead, the image shows up as blurry and no good, and and the animations do not reference it at all.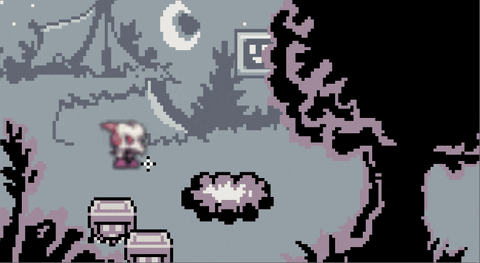 This means my intended workflow of: build a pixelart game; upgrade it to hand drawings is dead on arrival. If I want to build an HD game with my unique art style, I'm going to have to build it in HD from the ground up.
It also means my RPG engine is useless for making HD games. It's not a total loss. I can steal much of the code when I make an HD engine, and the learning won't be wasted. But I'm gonna have to remake it to make the drawn art style games.
Ah well. Such is life.
It's fine. It just means
No reason not to try Godot instead of Unity.
No reason not to build in HD in Unity, thereby getting the full benefits of the resolution.