I have the August Bunny Trail Junction.
My theories about using green/red ramps for screens, and then printing in grayscale have been vindicated.
But for the sake of making a Wren RPG, I changed up my pixel art style to something more like a 2D Brawler.
Which drew on my cartoony hand-drawn style, and turned about and influenced it in return.
Now, I've been explaining my RPG notion in comic form, and have half a mind to put those episodes in the September BTJ..
But while the pixel art uses my Rainbow Rose color palette, which is intended for print, it wasn't specifically designed with black and white printing in mind like the Rainboy Palette. So I had to get a sneak peak at how it would turn out in print. Fortunately, each monthly should preview the next monthly. And so..
It's fine. It's not great. Specifically targeting black and white would be a wiser choice. But it's fine. Good enough to print.
But I've been going back and forth. When I get treatment, should I work on my RPG engine…
Or focus my energy on Dronefu?
Those are the financially viable ideas, right? I've made series of comics explaining both ideas that will likely one day run on BTJ.
The RPG is viable because when Alpha Dream died it left a huge void in the JRPG community. Maybe not big enough to feed Nintendo, but certainly big enough to feed me. Dronefu is viable because it's basically Megaman X, only moreso. And HD drawings. Nobody wants another pixel art platformer, but HD platformers are still in it to win it, right?
But I got to thinking. Hat Trick is the thing that is turning heads right now. Any game I end up making will probably be heavily influenced by what parts of BTJ people are talking about. And I could make a pixel art Megaman X-style game with Merlin from Hat Trick. I've toyed with it before.
It came to a head this week because I crashed my bike and bruised up my hands. I've been unable to manage the fine motor functions of drawing for most of a week. It's been frustrating.
Though I've pulled some pretty panels out of my recovery all the same.
And I thought about making Hat Trick comics using pixel art.
It felt wrong, so I didn't do it.
I like how the Rainboy Palette comics turned out, so making pixel art strips for BTJ in general doesn't feel wrong at all. But the notion of doing portions of Hat Trick in pixel for some reason causes my spirit to rebel.
So I tried an experiment. I took my Wren RPG sprites, downgraded them to Rainboy palettes, and dropped them in the bus stop scene.
It doesn't look terrible. It looks okay. I can make comics this way.
And maybe games?
And maybe games. Maybe the combination of the Bunny Trail Junction webcomic, and making low-res pixel art platformers will work out for me. Can be turned into a career.
I think it can.
I just… love how much more expressive and stylized these larger sprites are. Even though they are 5x as much work as the smaller sprites, easily.
So, I tried popping myself and Jump the Shark into the retro diner. I had to scale up the door because it was obviously too small, but I didn't really need to fix anything else.
It's too small. But it's not terribly too small. It'll do until I get in the mood to make another. And… yeah. I'm thinking I'll try making a platformer using these graphics. Maybe using Godot, but maybe just picking up my old Unity platformer. Because after all, it already has a shader meant for these palettes, and lighting effects ready to go. I could just fork it…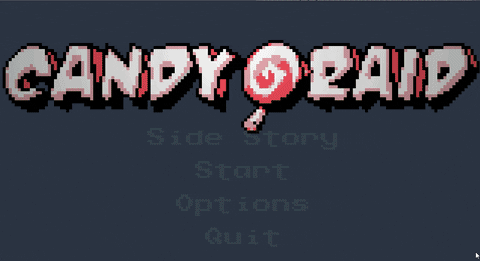 I'd want to scale up the world, or else scale back to the 16×24 sprites instead of the larger more detailed sprites. I dunno man. I kinda love both.
There's a certain irony that the platformer already exists with Candy. Way back in the day, when I did a Ludum Dare with a programmer who is now my friend, I conceived in my head a platformer staring Merlin. But I swapped in Candy the Witch because if my partner turned out to be dodgy, I wanted a character I wouldn't be too upset over losing to be in the game. And Hat Trick is fairly dear to me.
I do have Merlin in both sprite scales.
Well. Anyway. The comic is launching in roughly four days. Everything is primed and ready to go. I've got the first week loaded, the first month planned, the first two months drawn…
Onward!