As I've gotten further into my inktober work, different pictures have taken over the cover of the October monthly. Here's the current lineup:
(And hey! The September monthly is finally available for sale!)
Meanwhile I've begun work on a game. Work is slow because I'm doing two full ink drawings a day, which eats into the time I can work on the game at all. Here's what two days of this have netted me: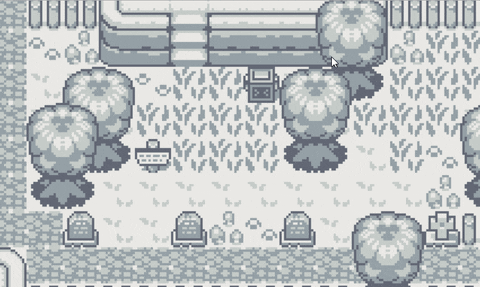 Let's pretend I have about 4 hours of brainpower in the tank per day. That's one per comic, and one spent on Japanese, leaving me only one for the game. To be sure, I spent more than two hours on this program — but most of the stuff outside the two hours of "brainpower" were minor tweaks rather than getting somewhere and doing something. So, all told, not bad.
Normally, my rule with Bunny Trail Junction is it has on months and off months. In on months, I focus all my brainpower on the comic, and I expect to produce three to five episodes a day. This is what I was doing during my proof-of-concept in April.
If, say, I'm working on a video game, it's an off month. In an off month I produce one comic a day. So in an on month I am rapidly gaining ground, and in off months, I am slowly losing ground. Simple enough.
I'm making a game, so September is an off month, right? Except I'm doing two drawings a day instead of one because I have to hustle through the Inktober prompts and get them all done before the Ides in patent violation of the spirit of the law. So, I'm trying to cobble together the bones of a game while working twice as hard on comics as I intend to do for the rest of the month once the Inktober prompts are finished.
By the 14th, my visit with the doctor, the prompts should be finished, and I should be back down to making a comic a day and spending the rest of my brain hours on the game. If I throw together a decent series of comics about the game, I can have November assembled within days of October and start to be truly ahead of the game. The game being Bunny Trail Junction obviously.
But one dark shadow has been lurking in the corners of my mind.
What about Awesome Moments? Awesome Moments is the most important thing on my to-do list, after all! Making comics about bunnies fighting goblins is nice, but this is leaving a record of my faith for my children!
When am I going to finish that?
Oddly enough, Awesome Moments got kicked into production by my work on the comics. This:
Became this…
…and this…
Perhaps it is time to unfurcate it, and roll Awesome Moments back into the comic.
I've toyed with the idea of setting Awesome Moments as the story of David Jones catechizing his kid.
It sidesteps a lot of the angst I have over it. As a convert from one faith tradition to another, I am painfully aware of the doctrinal differences between me and my Christian brethren. It doesn't matter: Awesome Moments is my presentation of the faith to my children. I cannot, I must not, bend on any doctrine of note just because I love my brethren with whom I disagree.
So, you know, if you're reading my Bible Story books to your kids, and you disagree with me, you'll want to point out (incorrectly, of course) where I'm wrong. You should be doing this with all the childrens' Bible Stories you're using already. You don't know what crazy cults have gotten their fingers into making those books!
Making the book "The Bible, as told to John Michael by his dad" makes this a lot less messy. You can say, "Look, David Jones is super cool, and we love his perspective, but he's an imaginary character and sometimes he gets important stuff wrong." Badah-bing, badah-boom.
(Of course, there's no need, as obviously I am right about everything. But the option is now cleaner.)
Anyway, today I was avoiding work, as one does on the Lord's Day, and pondering, and the thought came to give it a little test comic. And here we go:
If I decide I don't like it, I don't have to run it. But for some reason, this feels right. This feels like how I'm supposed to do this.
Intellectually, it's not quite right. Bunny Trail Junction is supposed to be pure entertainment. I'm not trying to evangelize with my comics. There are Believers in them, and Christianity is true in them, but they are meant to be Christian stories in the same sense Lord of the Rings is a Christian story: that is, the work of a Christian craftsman plying a trade, not as a preacher, but as a man pursuing excellence in his particular craft.
But it feels right. And as I grow older, I get more mystical. My gut says aye. The ayes have it.
For now.