Progress progresses nicely. Sometime in the next handful of days I shall upload some new Hat Trick comics, and we will do another compare and contrast between the different drawing techniques.
The game prototype is also coming along. I went from not having enemies:
…to having enemies you can attack and kill in a single day.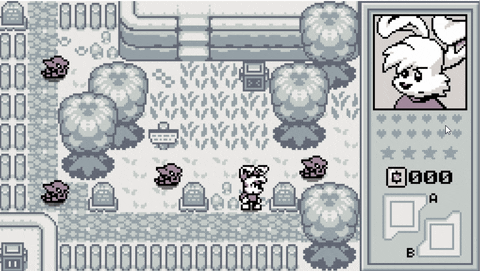 I'm still stumbling along slowly because I don't know the language or the engine, and yet it would take me as much time or more to do this in Unity, and I do know the language and the engine.
Over the next day or so I want to generalize the character physics. Next week, we'll add some enemy AI.
I have a pretty good plan to roll up an indie game business, and I'm fairly confident in it. Problem is, it won't pay me before November, and it won't be self-sustaining before February assuming I do nothing else. But I'm aiming to do other things. Maintain and get ahead on Bunny Trail Junction, which after all, ties into Bunny Trail Junction. Oh, and launch a crowdfund for Awesome Moments.
I've made zero progress on that front.
I'm confident. I'm energized. I'm more productive and focused than I've ever been. (I'm medicated). But… I'm trying to do too many things. I don't think I can launch the crowdfund if I work on the game at all next week. I don't think I can get the game done in time if I work on the crowdfund at all.
And my family is hard up for cash, me having lost my job. If the crowdfund works, I'll get money in mid-November. If the game makes any money, I'll see that in mid-November. If I get a day job, it'll be all I can do to keep the comic running.
I think I'm going to prioritize the crowdfund, try to launch by October, and as soon as it's launched, go back to working on the game.
Hard choices. Pray for wisdom.
I've been considering how to get ahold of my audience. The six-year-olds. The people who want to read Jump the Shark and Hat Trick.
The easiest way is YouTube. Launch a new channel. Dramatic readings of my books complete with illustrations on the screen. I could produce weekly content if I went back to the Kids' Pulp system I've previously outlined. Of course, that one extra ball in the air would definitely cause all the others to fall. But maybe it's something I can bring into fruition once I've safely landed Awesome Moments 1 or Hat Trick: Prelude to Nightmare or both. Anyway, I wanted to get the notion written down before it escaped me. Write one bedtime story a week. Make one illustration for it. Read it out loud for YouTube. They can't all be stinkers.
Each of those stories becomes a seed that can turn into Bunny-Trail comics, children's books, games.. It's a great idea. But I need to decide if it's the great idea I'm going to go for.
Got a lot of compliments the other day for my piqha. I miss my piqha. I want to do something with them.