So, I have launched the Awesome Moments Kickstarter:
Tell your friends. Tell your enemies.
If Awesome Moments funds, it will be the main focus from then until it is done. And every day until then, I will post something about it on Twitter. I will seek out opportunities to speak in churches or otherwise. I'm going to give this thing the best possible chance I can to fund.
That said, I have no idea if it will, and I'm not married to either outcome.
I am going to try and get a couple of story videos made in time for November, because I see a useful lining-up with Thanksgiving.
If Awesome Moments doesn't fund, I will double down hard on making videos in November. We will try to prime the algorithm with a glut of good stories.
December's Bunny Trail Junction will be at least partially a prayer book, so I can keep the prayers I want to pray every day in my pocket. It will be the last Bunny Trail Junction monthly for a while.
After December, I will release bimonthlies instead. Bunny Trail Junction will drop from 7 comics a week to 3 comics a week, plus a video each week on YouTube/other media outlets. I hope to one day go back to daily comics, but my commitment is to reaching my audience — little kids — where they are first, and keeping the comic going second.
This week, my primary goal is to turn Prelude to Nightmare into a finished game, however short, stupid, or terrible it may be.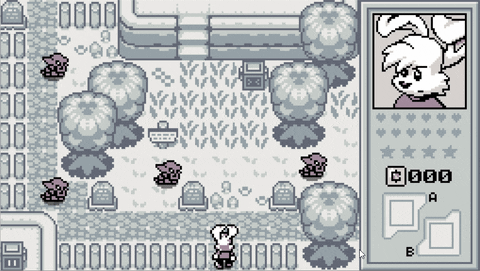 Then improve it each day, while keeping it a finished game, until November, when it is released as is. My ultimate business strategy is to build an audience on YouTube and use them to crowdfund books, and seed the demand for games. My videogame strategy is to proceed as previously outlined, making a 1-month game, making a 2-month game that is advertised , and then Kickstarting a year game for a year's salary. The timeline for these events varies based on whether I am making Awesome Moments or not. If not, I'll aim to begin work on Game 2 in December, and release it as an Anniversary gift for my wife. Otherwise, if Awesome Moments does fund, I will spend a month spinning up the YouTube channel before launching into Game 2.