So, here's the updates I should have done on Monday, except I was pushing the game to completion, and yesterday, except I was power-recovering from a head-cold.
I promised to upload the third draft by last weekend. I have failed because I don't yet have my pastor's notes. I will be getting them today, inserting (I think) two more pages into the story to really hammer home the centerpiece of the plot, and keeping my promise.
The Kickstarter is 1/3rd funded! Right now, I'm not pleased with the options I have available for people to back it. This weekend, I hope to tweak it a bit so people can get, e.g. coloring books, or something else that I can price relatively low and have the book itself have a large enough markup I can actually use the funds for more than production and shipping.
I have mixed feelings about Awesome Moments. I am 100% on board with making it, and it being the greatest thing I've ever created, for the sake of my children. But as a product I offer the world, I am hesitant. So I am praying that it funds or not based on God's blessing the project as a whole.
I am not hesitant to share the project with the world, however. I love it. I believe you should love it too. I am excited about it. And I am going to be putting up posters, arranging to speak at churches, and so forth. The trick is, how do I balance that with what I said I'd do in October and November before I decided to try
Bunny Trail Junction: The Comic
November has been assembled all month. So according to my normal process, I should have it uploaded to Amazon, right?
Wrong. I've been tearing my hair out all month trying to simultaneously do the Awesome Moments Kickstarter and get the game that also launches in November done. I haven't even kept up on producing comics.
Technically I have, as the pixel art comics…
… are so easy to produce that I have 24 comics already done this month. The problem is, that's not what I want to run. I don't want to offer my Bunny Trail Junction readers me blathering about what I should do or not do. That's what this blog is for! I want to offer the readers stories!
Moreover, Hat Trick is picking up traction at least as much as Awesome Moments, thanks to all the work I've been putting into the game. Although neither is getting the kind of traction I need to make a living yet.
Currently, I have a couple of ideas for the comic. All of my ideas involve finishing out December strong, then maybe changing it up.
These ideas can be mixed, matched, and stacked.
Cut Back Next Year: The current favored plan is to reduce the comic to 3 strips a week instead of seven, and release bimonthlies instead of monthlies. This frees up enough time for me to work on games and videos while keeping the comic on life support.
January Sabbatical: No comic in January while I focus on retooling everything. This would be really helpful because even if I cut back to a bimonthly, I still have to have January and February both done at the beginning of January. Unless I take a one-month sabbatical. And then, if I do the full 31 comics for Inktober next year, with every other issue being every/other month, the 2022 annual will be roughly the size of the 2021 annual.
A Story In Pixel Art: This is my favorite plan, but it's also the newest, and I haven't let it marinate as long. If I can devise a story that works as a sprite comic, in the style that I'm doing for the games, I can generate enough comics to cover the gap between months where I draw and months where I work on games or books.
Story Books As Web Comics: And finally, if I just do a two-page spread of the 5×8 as a single day, like the prayers I'm going to be including in December, that totally counts, and it fits certain story beats better.
3 and 4 are the newest, but most awesome notions. Sprite comics allow for awesome animations. The title screen I've got for my game has already convinced me that I want to do comics that look like this. And if I can make storybooks for Bunny Trail Junction that later lead to larger, illustrated books, so much the better.
Just look at that title menu! Comics that look like that would kick ass! And the more I weave my comics and games together, the better for each of them.
November will have two or three comics that straight up have animations in them on the website. And that rocks. Putting that stuff in stories will be super cool.
Anyhow, today I'm going to try and polish off the last edits to November and get that submitted to KDP today.
Hat Trick: Prelude to Nightmare
I spent Saturday and Monday neglecting all my other responsibilities to make Hat Trick: Prelude to Nightmare a complete game. And it is done.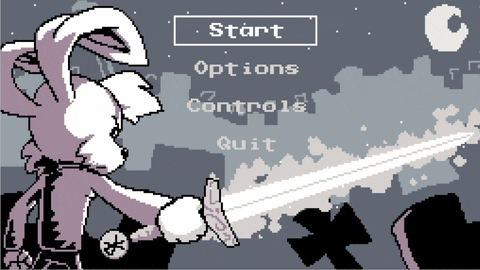 That doesn't mean it's a good game, or even the game I wanted to make. To get close to what I want, I need to add:
Enemies that fight back.
Health and health drops
More combat options like dashing and parrying.
More world to explore and waves of foes to fight.
Nice sound effects to menus and the like.
Spawn animations of goblins bursting from the ground.
Music changes when exploring Vs. Fighting.
Arthur's portrait changing based on the situation.
But, it has a win condition, a lose condition, an options menu, and a controls menu. If I get only partway through the things I want to add by November, and then have to cut it off, at least I will cut it off a finished, if sub-standard, product.
I want to make a whole blog post about what I've learned from making the game, and how I'd like to tweak things moving into the next one. So stay tuned for that.
Going Where My Audience Is
I have rebranded my Jump the Shark YouTube Channel as a Bunny Trail Junction Youtube Channel.
I have observed before my audience is kids. To reach kids, I need to go where kids are. Which is not twitter, or bunny-trail.com. It may be YouTube.
My current idea is to take my Kids' Pulp Formula, write a bunch of stories, and upload one or two a week to YouTube. I'd draw one or two pictures for the story, record myself reading it, and thus build the audience for my books, my comics, and my games. For the same purpose, I've created a branded SubscribeStar.
My intention is to create a family-supporting setting and cast using my Piqha for the majority of the stories, although doing my existing books and comics is also fine. But Piqha, man, they're so cool, and so far none of my finished work is strongly counter to modern propaganda pieces. I want a Berenstain Bears but with a respectable Papa. And the Piqha can do that.
But I haven't put a single penstroke down for this project yet. Fulfilling my comic promises and advertising Awesome Moments has eaten all of my time! And right now, I'm not even feeling it. I'm feeling my game.
Man, getting my comic to look like this would be so cool. Heck, using bits like this rendered in-engine for videos would be so cool.
I've never edited videos before. I'll need to record myself reading stories and edit the audio as well, and I'm not sure how I'll find the silence necessary to pull it off on this farm. Right now, as I write this, my sister's dogs are barking, and there are baby chickens chirping directly under my window.
These are all rather niggling excuses. I can overcome them. But that leads me to the one all-encompassing problem that I have with my projects.
I Should Only Do One Thing At A Time
I am able to do a great job getting funding for Awesome Moments, telling people how great it's going to be, doing updates for the Kickstarter, and tweaking the rewards to generate interest.
As long as I do nothing else.
I am able to do a great job inking beautiful comics with intriguing stories to run on Bunny Trail Junction every single day for months ahead of time.
As long as I do nothing else.
I am able to build a retro game that looks super fun and exciting and slowly build up hype for it as I put in more and more cool features.
As long as I do nothing else.
I suspect the same is true of the YoutTube videos. The reason my mind is coming up with a slew of excuses is right now I am in game-development mode, and my mind doesn't want to switch to advertising mode or to video mode or to drawing mode. But somehow, I've developed a plan of action where this month I'm doing all four at the same time.
That has to stop.
I can present all four at the same time. I'm presenting Inktober right now, although it's certainly not getting me the eyeballs I had hoped for. But I'm not doing Inktober right now. I did Inktober last month.
I have to be doing one thing at a time. If I am making videos and games and comics and childrens' books and funding, I have to be working on only one of these at a time for multiple days at a time. I may do one per month. I may do one per week. But I can't do two per anything ever, ever again. I am making it work half-ass right now because I promised a game in November, and I promised the comic would come out every day this year and I'm doing the Kickstarter right now and I owe it a fair shot.
Tomorrow I have an appointment to work on a business plan. My business plan has to be to make one thing at a time. And it has to be something that gets my work to my audience and starts up a cash flow.
So today, I figured I had better sort my ducks out. Here they are. Now it's time to ponder on how to line 'em up.