As of Captain's Log LB•11: The Primacy of Vidya, I have decided that henceforth instead of making comics, games, videos, or books as the fit takes me, I will be making games and then deriving comics, books, and videos from the games as much as possible.
It's no good for some things, like Awesome Moments, obviously. In that specific case, I am content. Awesome Moments is a record for my own children, and I feel a little odd about making it a product. But I do need to make a product.
I'm working using a concept/business model I am calling the Game Tower.
Game Towers
A Game Tower is a game development technique wherein you make a miniature game that is a Complete Game that implements a core mechanic of some larger game you would like to make. Then you release and sell that game. Then, on top of that miniature game, you build a larger miniature game that has an additional component. In this way, you build a tower that grows towards the dream game you wish to make, while also increasingly funding that game and expanding your track record.

Note LA•S9
I have discussed before how I find dismal projections of how little money indie game developers make to be encouraging. Partly because I'm old poor, so a coder's "I could never live on this" is easily 50% more than I can hope for as a Lowes Greeter. But partly because of the way Game Towers work. The projections in question assume you are marketing from square one each time, but every brick in a Game Tower helps sell the brick below and the brick above.
I have two Game Towers in the running. A JRPG Tower, which we've spoken of and…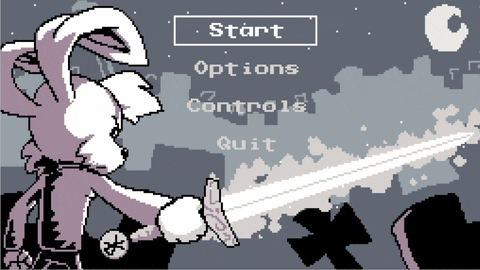 The one I've chosen, Game Tower Awakening, is building a foundation with my favorite games in mind, especially The Legend of Zelda: Link's Awakening for the Gameboy, with later influences from Megaman and Megaman X.
The first brick in that tower is familiarize myself with the Godot engine, try out some graphical and gameplay ideas, and see how that goes. And so I have done. Hat Trick: Prelude to Nightmare was made in Godot, tested the ideas, and is technically a Complete Game, even though it is not a good game.
Today's Choice
Now, this is not the first game in the tower to be 'financially viable'. Nor can I follow the proper methodology with this game, as making it has taught me several things I want to change on the ground floor. So after concluding I should focus on vidya, I debated two options:
Release the Proof of Concept with no real gameplay to the world and immediately begin working on the second brick.
Spend up to a week polishing the Proof of Concept so that it can be reasonably considered a real minigame.
The advantage of 1 is that it does a better job as a marketing tool. Hat Trick: Prelude to Nightmare was not meant to be a mere proof of concept. It was meant to market the Hat Trick comics on Bunny Trail Junction And it was meant to market the second brick. Right now, it's not a good game. All it can really do is prove I can make certain things.
To make it a good minigame, I have a week or more of work ahead of me. Animating goblins, developing rudimentary AI, filling out the levels, changing the music at dramatically relevant times, and adding a bunch of satisfying beeps and swooshes to the menuing. This puts me a week or more further away from making the second brick. No big deal?
It would be good to do. I have learned a lot of stuff about Godot making this first game in the engine. There's a bunch of things I want to do completely different now. And I know from experience that game dev will always be like this. If I start over, build a new foundation, by the time I get a game out of that, I will have a ton of stuff I'll wish I'd done differently. Pushing forward to make the minigame a proper minigame would mean I begin work on it with even more notions of how I can do better.
But some of the changes I intend to make are fairly drastic.
Some Changes
For instance, I want to build my animation system differently so I can compartmentalize animations and reuse them between multiple characters. Oh, and here's a big one.
I'm going to ditch 2D for 3D.
Not entirely. I still intend to use the same sprites and tiles. But I will do so in a manner reminiscent of Paper Mario or Octopath Traveler, albeit with an overhead perspective instead of a side-on perspective. So more of a Pokémon Black & White kind of look.
See, one of the things I love about Link's Awakening is all the jumping. To add top-down platforming in 2D would be complex. I'd have to carefully consider how to emulate the third dimension. How to alter and sort the graphics as they get higher or lower. How to track which parts of the map are at which height.
If I just shift that gameplay into Godot's 3D engine, I get all that stuff automatically.
And I can take a Link's Awakening style adventure and make Megaman or Sonic levels by tipping the camera on its side a little.
And I suspect (I do not know, but I suspect) that Godot may succeed for me where Unity failed, allowing me to prototype gaming in pixel art, and then slip HD art with the same proportions in if I decide to make the game more ambitious.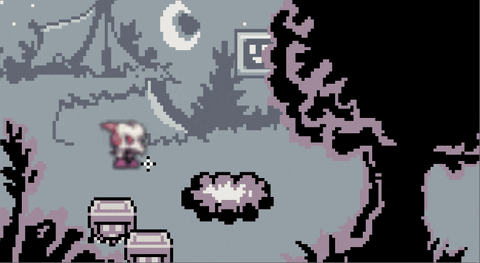 The Choice Revisited
Now, let's take a quick look at Option 2: cut off my proof of concept where it is and begin building the second brick now.
If I am correct, I should hit a stage in developing the second game where I can take a couple of days, build out the first brick's world and situation in the game in progress, and simply publish it in place of the proof of concept. That is, a month (hopefully less) into making the second brick, I can paint the second brick to look like the first brick, and get all the advantages of finishing the first brick first, as well as the advantages of cutting directly to the second brick.
So that's my choice. Today or tomorrow, the Proof of Concept will be available for download on bunnytrail.itch.io/hattrick0 and then, later, when I can recreate it and more in the second brick engine, it will be swapped out.
The Second Brick
The Second Brick is a ninja stealth combat game where you play a snow leopard ninja my wife uses as her online avatar, sneaking around and killing therians. Tenchu Z in the Link's Awakening engine. Aside from the meager marketing I manage on Twitter by my lonesome, this has the advantage that I can have her run betas on her Twitch streams, and enlist her fanbase in spreading the word.
The Third Brick…
I have many, many friends online who are writing excellent books and comics and drawing attention. Releasing the second brick is all the proof I need that I can turn one of these into a still bigger game. I have lots of ideas for several properties, but we will see who is amenable. With our audiences combined, the Third Brick will have an even greater reach.
And Beyond?
That JRPG Tower I was working on? The one that's more marketable, has better storytelling potential and so forth than the Tower I've chosen to build just because I happen to like it more?
It may have very different gameplay than this Tower. But I might be able to take the work I do on graphics and dialogue and world representation, and use the same foundation for a second Game Tower.