Last week, as predicted, I did very little on the game. Not nothing, though. I spent a lot of time doing character and setting designs that will tie into the comic. I found a workflow that is almost as fast for creating "hand-inked" looking vector art as my pixel art workflow is at making pixel art…
..which re-sparked the age-old question of whether I should use HD art or Pixel Art.
There were three elements that tipped the balance for me. First was the seasonal enjoyment of Muppets Christmas Carol. My piqha, and indeed all characters in the retro-cartoony art style I'm developing, are my version of muppets as much as anything. And one thing I like about "my" muppets is that they exist in a digital world, where Mr. Henson's exist physically. It's something I've tried, and failed, to develop, in the past:
But as much as I haven't got it figured out, I haven't let go of it either. Even my "paper dolls" exist conceptually in my head as digital life forms. Pixel art merely makes that explicit.
The second element that tipped the balance was watching a video on Super Mario Brothers speedrunning where they talked about frame rules and manipulable RNG. Mechanics necessitated by the hardware of the time, but mechanics that I fully desire to include in my games on purpose. And the fact that they are pixel art helps thematically hint that these things will exist in my games.
The third element that helped tip the balance was a tutorial on YouTube on how to create a pixelation filter, which I immediately implemented yesterday out of the sheer joy of doing it.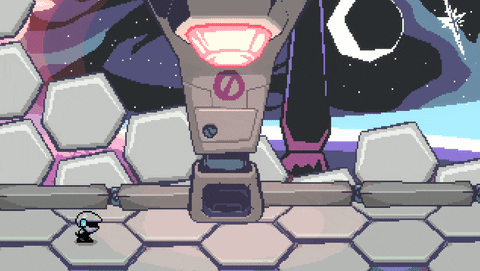 I now have a glitch animation I can call whenever I want from code, as well as a fade out/fade in method that is both more elegant than what I did with Prelude to Nightmare and more Godoty: my Hat Trick fade was done the same way I would do a fade in Unity.
Along the way, I tweaked my inky caricature to be in tune with Popeye, and tweaked my pixel art caricature to be in line with my inky one.
Which is a great improvement in my eyes.
Ink and pixels will both always be elements of how I present my stuff, I think. With 3D making rare but real appearances from time to time..
But I do love the pixels.
One marginal fourth factor convincing me to go with pixels over HD was that I want my games to run on potatoes, and not require super high-end hardware.
One marginal fifth factor is that Sierra called their graphical adventure games "Hi-Res Adventures" because this was hi-res compared to a text adventure:
… and I think it would be hilarious to call my games "Low-res adventures" despite them being higher res than the Sierra high res adventures.
The one thing that was not a factor despite the fact that it ought to have been the single most important factor is that it'd take much of a week to rebuild what I've got so far in HD. At some point in a project, you have to commit to not starting over, even though you've learned so much and done so much that you know starting over would be faster and better. Because if you let yourself start over once, you'll let yourself start over again and again and never get done.
My books are not perfect, but they are finished, and the lessons I would learn by starting over get applied to the next book.
But while that should have been the first factor and the deciding factor, I never considered that factor, as the other factors made the decision before I got to that point.
What are we going to do this week?
A game is complete when it has a start menu, sound and graphics options, an input screen (although, ideally input customization options), a credits screen, and gameplay with the game over conditions (win conditions, lose conditions, so on).

I do not release incomplete games.

Note LA•S8: Complete Game
This week, my primary goal is to turn my gameplay demo into a small complete game. Doing the bare minimum work as fast as possible to have it done.
Then, in January, the first two weeks will be dedicated to expanding the game, and the second two to polishing the game, making sure at the end of each week to end with a finished game. In this way, at the beginning of February, even if I have to cut content that I wanted to put in the game, I will be able to release a game.
So that's the plan for this week. Make a title screen/start menu, the options and credits, and the end conditions.
The FYOOOTCHER..
If God wills, and I haven't finished development for the Mad Christian Last Legend comic by February, as a side-effect of making this game, February will be devoted to comic development until it is ready to go. Using the game engine and comic assets together to make YouTube animated shorts (and I dunno, TikToks) will be the hoped-for side-effect of that project as well, because the plan is then to spend March and April producing a JRPG, Last Legend I.
If Bunny Trail Junction is the the rocket, then Last Legend I is the launch and Last Legend Zero is the fuel.