So, here's the quick rundown:
February, I do what I want. It's my sabbatical from trying to be pragmatic about my projects.
Now, the plan in December and January was simultaneously make an adventure game and plan a comic for the Mad Christian Mondays newsletter. That resulted in this demo:
And the realization that it is a bad idea to plan a release for an adventure game when you don't already have the story nailed down.
Of course, not having the story nailed down meant not only didn't I have the adventure game, I didn't have the comic either. I let the crew know where I was, made noises about focusing on the comic for February, but really committed to tinkering with whatever I felt like, as is my tradition, and hoping the comic would bubble out of it.
So I started throwing a bunch of my characters together in a video-game art compilation, to try and kick something loose.
I tried making a space shooter with Spaz McDragon, since that was the most scaled-back game idea I could come up with. Here was the plan: get Spaz McDragon into a space shooter, release that after a couple of months of dev. Then make a Spaz platformer. Release that after a couple of more months. Make the comic about John Michael Jones getting sucked into a video game, and have his initial area of hanging out be one of the Spaz Platformer level. Thus, bring all the projects together.
I got Spaz animated and loaded into the Adventure/RPG codebase, and got some space shooter mechanics running in a day or two.
Started working out the John Michael Jones story alongside it, and built some forest platformer graphics to stick them both into: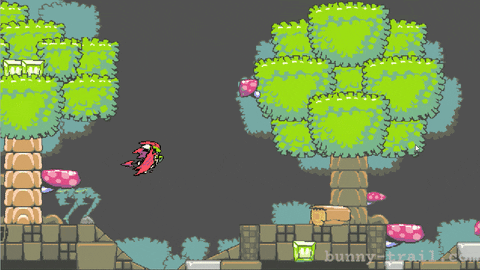 I realized that my dislike for shmups was strong enough that it would be worth it to just go straight to the platformer right away, even if it did take a little longer. So I animated John Michael as a platformer character, in case I could come up with a game idea that overlapped with the comic story.
And that's where the status quo lay until the end of February.
In the last week of February, I had almost everything I needed for the comic nailed down, when I was inspired by a series of videos to try HD videogame art in Godot one more time. So, I spent three days jerry-rigging a demo of John Michael running and jumping in an HD hand-drawn world.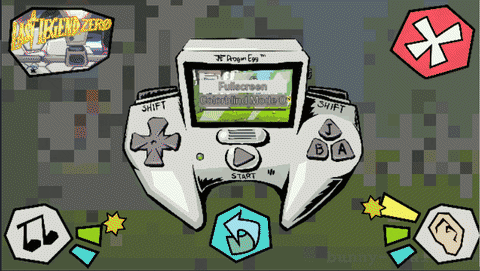 Thing is.. I'm sold now. I absolutely want my games to be hand-drawn. It's not even significantly harder to do it this way than pixel art. It's harder to animate. You can't tweak things as quickly. But throwing together backdrops is even easier. And I can take advantage of code-based squash and stretch without it looking weird. And my game can have a unique look that immediately stands out.
I've spent the first two weeks of March hurriedly figuring out the last bits I need to know about the comic to actually produce it. And actually producing it I am. Expect the first episode next Monday or the Monday after that. Bunny Trail Junction is coming back, albeit (for starters) at a slower pace.
But if I'm going to make a game, what should it be? I have some great ideas, but they are all too big. I need to start small. Get something finished and shipped. I've been contemplating that for the last week, as I wrap up the work I need to do for the comic launch.
I figured it out. Meet the new plan: same as the old plan.
Yeah. I'll just make Prelude To Nightmare a platformer. When it's done, I'll have a solid start on the graphics necessary to continue Hat Trick as an (HD) sprite comic, if I so desire.
And the plan after Prelude To Nightmare was to make a game for my wife that layered stealth mechanics on top of Prelude To Nightmares's mechanics. I see no reason why we can't assume that second step next.
So, let's make set the tentative schedule as follows:
Last Week of March/First Week of April: Race to make Prelude to Nightmare a complete game.
Remainder of April: Expand Prelude to Nightmare
May: Playtesting/me working on other projects.
June: Fix and polish Prelude to Nightmare.
July: Launch as a $5 game.
As always, this is less a promise and more a chosen direction. But I think it's time to put the pedal back down to the floor!
Update
I'm being an idiot. Hat Trick: Prelude to Nightmare in engine would be very nice, and I should add it to the list of potential things to make. But as far as "smallest, best first building blocks" go, making the exact same gameplay with John Michael Jones characters is a far better plan.