Took my month off. Tried to storyboard a kids' book. Didn't work. Did a game jam. Did okay.
Here's kind of where I'm at.
I decided to roll my game dev back to the gameboy-esque standards. I've been slowly rebuilding Prelude to Nightmare using all the knowledge I've gained about Godot since I made it. Here's where it was…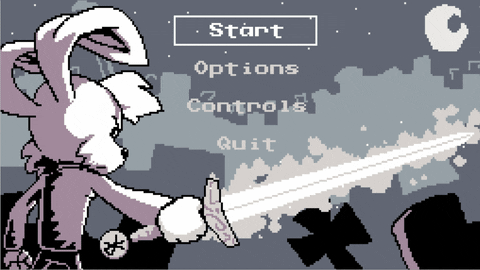 .. and here's where it is..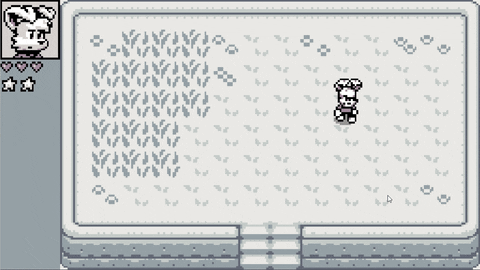 A long bit away from where it was, but with numerous improvements. Things I'm doing "right" that were being done in a hacky way before, but I didn't know.
Quite the whirlwind tour to come back to the beginning. But to my way of thinking, if it took Yacht Club Games a bazillion years to finish all their Shovel Knight promises, and they have way more skill and experience than me, then… 🤷
Time to start biting off smaller bites or something.
Meanwhile, since zero of this process is making something new, my brain has been freed up to consider what I should make. Refactor the kids' book ideas. That sort of thing. And I keep circling back to John Michael Jones.
Maybe Wren would be better off motivated as a monster hunter/collector than a bounty hunter. Maybe that would fix her story. But I'm already exploring that angle for Princess Pluot. I don't want the characters to overlap! Maybe I can do an action story for Jump the Shark. But why not do the action story with John Michael instead? Man, I wish there were more stories that had X, or Y. John Michael has these things!
One of the things I was worried about was trying to take the story of a kid getting sucked into a game, and making a game look like the story. For instance, I gave these trees zigzag bark and square moss and flowers that aren't physically connected to themselves all as ways of signaling that John Michael is in a digital world..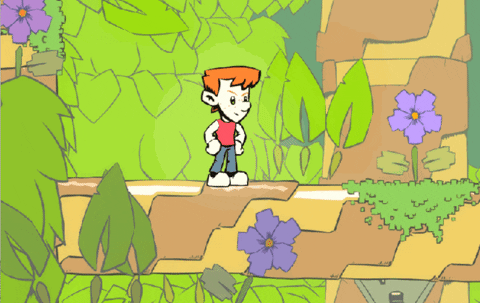 But good old pixel art does that just fine.
Indeed, I originally planned to have the comic be black and white in the real world, and colored in the game, as a nod to Wizard of Oz. But I want to tell the opposite story from Oz. I want kids to enjoy the fantasy of being sucked into a video game, but then also have it feel natural when the characters in the game say, "Ah, but in real life I have friends and steak and wind in my hair." So the "real" world should have color, and the game should be black and white.
So yesterday I colored John Michael's first comic, and then made a proper cover for the first arc of the series.
So that's where I am. Gearing up to release John Michael Jones Fights a Dragon. Simultaneously developing a Hat Trick game. And trying hard to nail it down to just those two things for now.