There is a thing called comicsgate. I mention it with some trepidation.
When it became obvious that Marvel and DC were more committed to their observance of the Death Cult's religious shibboleths than even to profit, several groups of people began simultaneously making their own comic books. Some, I consider friends and allies to this day. Some, I wish well, but I would rather ignore them and be ignored by them in turn. Together, this merry band was branded comicsgate.
And then it fractured into pieces as the groups attacked one another. I have my own theory as to who is at fault, but I'll not share it here. Obviously, my guys were 100% innocent and the other guys were 100% guilty. But I am not in the thick of Comicsgate; I am outside it.
See, I'm not a comic book sort of a dude. I never got ahold of comic books as a kid. While Comicsgate is either reminiscing about the glory days when we didn't know Wolverine's true identity, or even delving back farther, to the days when Batman wasn't afraid of guns, my exposure to the comic art form was 100% newspaper comics.
I knew superhero comics were a thing. My mother loved the Chris Reeves superman movie. I spent hours pouring over a book about Spider man from the local library. I had caught bits of the Adam West TV series. But I don't have nostalgia for the good old days when comic books were good because the only comic books I had access to where collections of BC, Peanuts, Wizard of Id, Garfield, and Calvin & Hobbes.
And, as I've related before, I also had access to books on how to make these newspaper funnies, and articles interviewing Jim Davis, Charles Schulz, Johnny Hart, and eventually, Bill Watterson.
All because five-year-old me miscommunicated and said I wanted to be a cartoonist rather than an animator.
And you know what? I want to be a cartoonist rather than an animator. I love the art of the newspaper comic strip. I think Scott Adams' formula of 6-dimensional humor is a fantastic innovation in the understanding of the format.
Even though, you know… I'm not making much use of it.
Yep. I'm taking the lessons I've learned from the study of newspaper comic strips and applying them to story telling rather than joke telling. And that's just how I intend to do things.
This is fine. There have always been newspaper comic strips that worked this way. Either mixed humor and storytelling, or else abandoned humor altogether and focused entirely on storytelling.
The newspapers are dying. The Newspaper comic strip is dying. The webcomic is its heir. But the webcomic changes some things.
Newspaper comics were filtered by syndicates and newspapers. Webcomics are unfiltered. The filtering process weeds out visionaries and prophets who defy convention and social norms, but it also weeds out dreck. So now, comics can exist that are better than what the papers would allow … but a lot of other comics exist that previously were denied existence because they were legitimately crap.
Webcomics can have color every day, not just Sundays! And yet I'm ignoring this and working purely in black and white ink. I've considered trying to come up with a setup where I use grayscale paper and black and white ink to create a tri-tone comic, or simply adding in a gray after I scan, but I've discarded these ideas.
Webcomics can have animation. Again, I'm ignoring this. I'm just making paper comics, but keeping the web in mind.
And that's the aspect ratio for you. 16×9 doesn't show up in a lot of newspapers. But it works nicely on Twitter, and if I stack the panels vertically, you can read it on your phone.
This kind of vertical formatting is the innovation of Webtoonz, and now Arktoons as well. Webcomics for a new era. Huzzah. I approve. Especially since, IMO, they will fit nicely in a pocket book printed by KDP.
I think the Newspaper format comic deserves to live. I think I'm going to take it under my wing and continue to produce things in this fashion. I think my 3x16x9 styling will neatly combine the needs of screens and books. But it has other advantages that recommend it to me.
The Format of ADHD
I can spend several months making an illustrated book. I've proven it several times over. And I'm definitely going to drag Awesome Moments across the finish line. I don't know when, but it's good for my kid to have.
But long projects are hard. If what I am told about ADHD is true, I don't struggle with controlling my focus; rather, I literally cannot control my focus.
When I try to simplify comic making down enough to make it a rapid prototype, which was the original purpose of this strip, I lose interest. It's too easy. When I try to do multiple drafts to maximize final quality, as is really ideal for the kids' books, I lose interest. It's too long.
If I have an excess of focus, enough to make a proper comic book or (alas) a children's book, I can make my RPG engine, and that will be better both for me financially, for the culture at large, and of course, for great justice.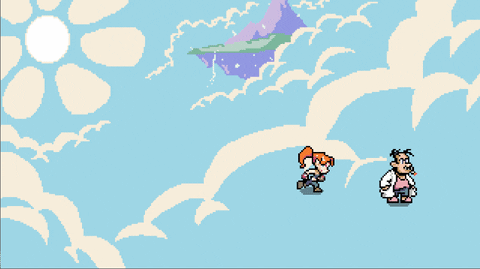 But I need enough of a challenge to care. It is not enough to make beans. There has to be craftsmanship.
I have to care.