Niemeier tells me what I already knew, that is, the price of video games has been going down, adjusted for inflation. And that's just the Triple A stuff. Whedonesque dialogue slapped over a mud-genre game with microtransactions. If you are looking for games with soul in them, you'll find lovely options at half or a third the price. I won't buy a Sonic game from Sega, and pay $60 or more for a gameplay style I've never cared for, only twice as rushed as the games I did care for. But I'll gladly hand $20 to Lake Fepard for Spark The Electric Jester 3. It's Sonic Adventure 3. It's got a poorly written Megaman X storyline that takes itself too seriously. But if you asked for Sonic Adventure 3, you signed up for that. And the gameplay, oh the gameplay! Refinement of many of the best ideas from the 3D Sonics.
Spark isn't Sonic. It's its own thing, taking its own direction with its own characters. But it built on the foundation Sega laid and promptly abandoned.
I have often advocated that people take the things they love that are now being defiled by corporate overlords, file the serial numbers off, and sell it. And well I should. I have 3, count 'em, 3 Jump the Shark children's books for sale,
(you should definitely buy that latest one, it is some nice work if I say so myself. Look, it's a ten minute bedtime story about a walking shark fighting a ghost kaiju ultimately with the help of a giant moth. If that doesn't light a fire for you, buy it for someone who will love it, because you definitely know someone), and I have even put some work into making a Jump the Shark game. It's half-baked. To become a true project worthy of sale, it will have to find an identity that is more than just a Sonic clone, and while Jump the Shark is a very different character from Sonic the Hedgehog, he does not yet lend himself to new gameplay. But as long as I live, the option lives too.

If your favorite game was Sonic, try out Spark. If you're upset that Nintendo hasn't made a sequel to the Paper Mario series, give Bug Fable a try. Hollow Knight would be a steal at twice the price. And I'm hearing very happy noises about the recently released Pizza Tower from fans of Wario, Sonic, and Metroid.
If none of these games ring your doorbell, consider perhaps God placed you on this earth to make the game that will. I mean, maybe not. Every gamer has a dream game that doesn't exist, and very few of us were sent into this world to make it. But some of us were.
Maybe me. Maybe not me, but maybe me.
For me, my favorite games in no particular order are Link's Awakening, Sonic 3 & Knuckles, Super Metroid, and Megaman X.
So my dream game would be some sort of Open World, probably Metroidvania style, but maybe top-down, with a character that moves fluidly like Sonic, but has a ton of optional upgrades to find. Doesn't fit Jump the Shark super well, though it could with enough creativity. Can be made to fit Merlin the Rabbit from my Hat Trick comics, which is one thing holding up the sequel book: it might be better to make it a game. Fits Spaz Sparky the Dragon to a T. I have this robot design that could do it. And Wren Valen could work.
And I've explored in that direction before as well, though I'm not satisfied with my explorations.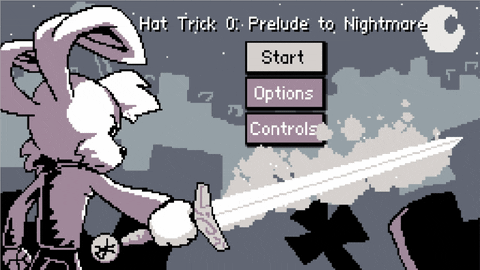 But a genre that keeps calling out to me from the borders of the world is the JRPG. And maybe it should call out to you.
The Dragon Quest-style JRPG is an excellent story-telling vehicle. I love making kids' books, I do. But distribution of stories would be so much easier, and reach so many more people if I just did JRPGs. And there's a hunger for them. Oh, not so much as you might believe. Sure, if Squaresoft releases a pixelart Final Fantasy, people will eat it up like they did Octopath Traveller, but for $80 or on sale sometimes $40 you can get RPGMaker, and RPGMaker games are a dime a dozen. They mostly don't make money.
The primary rule for the ones that do is they ditch the RPGMaker assets for custom graphics and music. And, well, I'm an artist as well as a writer. Why not make my stories in that and add a new skin over the top?
This is something writers should consider. It's something I am going to consider. I'll get the demo version of RPGMaker some time in the next couple of months and play around with it. It's 20 days, which is long enough for me to decide whether it's worth the money. And one thing I've always wanted to do is team up with some of my friends and allies on the internet. I know a couple of musicians and countless writers. Imagine if I made an XSeed RPG with Niemeier. His fanbase appreciates old games. It'd be a win-win for both of us.
But I have not pitched this yet. Nor will I, 'til I've made a small game that proves I can make the big game. And while I am going to dabble in the latest version of RPGMaker to see if it's suitable for this task, I suspect I won't use it, and there is a decent chance game making will remain a hobby, or if I make games, they will be action adventure games. And these are the reasons why:
I don't love JRPGs. I love some of the entries in the genre, but the ones I love are universally entries designed for casual players or players accustomed to other genres. Pokémon, Medabots, Mario & Luigi, Paper Mario and Chrono Trigger — some of these are classics for the ages, but all of them are meant for a broad audience. I don't really like Final Fantasy, Dragon Quest, Shin Megami Tensei, etcetera. That, in turn, makes me ill-suited as a designer or programmer for this genre. This can be overcome with professionalism and practice. Perhaps it is even a good thing that the games I love are more casual, the better to build experiences that are short and fluff-free. But it is sand in the gears.
I doubt RPGMaker will be easier for me to use than Godot. I can make a pixelart tilemap and a movement system in a day in Godot, and the one I make will be built with constraints I care about in mind, instead of RPGMaker's constraints. The hurdle that RPGMaker clears for me is that it comes with a built-in combat system, inspired by Final Fantasy and Dragon Quest. This is a dual-edged sword. One the one hand, a combat system is a sticking point for me, so just cribbing someone else's would be nice. On the other hand, I would very much want my games to have a combat system that is distinct from the RPGMaker combat system. Moreover, with Godot, I already know I can build a web game. Play it in your browser! Ultimate convenience. The latest version of RPGMaker does not promise this. Moreover, every RPGMaker game I've played on mobile has used an onscreen DPad and… This is not acceptable. Mobile controls for a retro JRPG should be as simple as touch the place you want your guy to walk to. And again, I can get this running in Godot in minutes, while still allowing DPad/Arrow key controls for your PC and console users. I've already done it. The Last Legend Zero prototype uses such a system.

You can get around these issues in RPGMaker with the right plugins, or by writing your own. But I suspect the effort involved is equivalent to the effort of building it myself in Godot, and less than the effort of simply cribbing my already existing code.
So my recurring dream of making an RPG, and then branching out and telling stories in this way, instead of just with paper books is highly speculative at this point. Most of the pieces exist. It may happen. But as Mr. Niemeier points out, ideas are a dime a dozen. Perhaps you should try RPGMaker, and if you come up with a game you like, get a team to replace the stock art and music. Perhaps you should try building an RPG engine in Godot. Or Unity or Unreal, or raw C++ because unlike me, you're a Real Programmer.
I don't care if you steal my idea. If and when I make it, it will be totally different from what you made anyway.