I spent some time trying to make this…
And got about this far: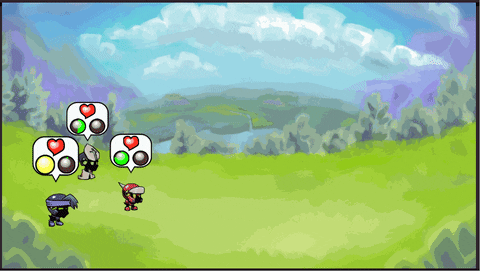 Not bad, not bad. But my brain seized up when it came time to make characters and attacks selectable. I've been trying to avoid a classic menu system like this:
Reason is, it's redundant and cluttered. Why have a button for each character when you can just click on the character directly?
For some reason, though, my brain gets to the point of "Okay, now it's time to make it possible to select a character when he's ready," and freezes. "I dunno how!" it complains.
If I use big ol' screen cluttering buttons, I can let Unity handle the input entirely and worry about the game mechanics.
There's nothing wrong with a buttony interface for a turn based RPG. Darkest Dungeon lays out a status panel along the bottom half of the widescreen, and it suits the sideways perspective, which I also intend to use for my games:
In fact, I'd be well advised to copy the general idea. Not the exact layout, but the concept of presenting a console underneath a side-scrolling view.
Not exactly like this, either, but I'm short on time and it gets the idea across.
This allows me to make the character graphics bigger and more beautiful. If I want to include tactical formation mechanics (e.g. back row takes less damage; front row deals more damage) it feels more natural. Etcetera, etcetera.
Anyway, I got big ol' farm chores to handle with my brother today. No time for game dev or any other task. For what's left of November, I need to make some promo graphics for an old project, and then in December our prime focus is on Awesome Moments 1. But, each day, if I get my allotment done, I think I'm going to work on my RPG, because I can't let go of the idea of making vidya.
Update
Here's a layout concept more or less directly inspired by Darkest Dungeon. It differs on a couple of key points:
The stats and arrangement of stats are different because the underlying mechanics are different.
I don't pack nearly as much stuff in. This is because:

I don't have as many things I'm trying to pack into that space yet, and…
Even though my primary target will always be PC, I have console and mobile in mind, and I want the game to be easy to read on a tiny screen or from across the room.
I think this is better than what I've come up with so far, but I think I can do even better with some thought.
Let's make it a new blog post.