The plan has not been panning out at all. But I have not been without progress.
I've begun storyboards for a pocket bestiary that meshes with my virtual pet, and gone ahead and mocked up the title page.
It's designed for Amazon's tiny 5×8 format, and frankly, I'm half-inclined to make it black and white, even though I've gone and colored the title spread.
You can see designs changing in realtime across the pages, and that's because I added a hatchling stage before my previously existing hatchling stage, because the Digimon virtual pet convinced me that was a good idea. Frankly, my plan for this book is to go one bestiary ahead before finalizing it. That is, book 1 will be the core monsters, mostly represented by this graphic:
This set hits all your fantasy creature needs. You got your basic dragon, your basic orc, your basic rock monster, your basic wizard. It could use some tweaking, but that's the purpose.
Set 2, and book 2, will fill out the ecosystem somewhat, with plants, bugs, birds, fish, and elementals. Each of the sets interacts with all the others — there will be common evolutions between later monsters and earlier ones. So my thought is: storyboard bestiary 1, storyboard bestiary 2, produce bestiary 1, storyboard bestiary 3, produce bestiary 2, and so forth, so that each bestiary gets a little bit of love from hindsight. And since I have Hat Trick 1 and Awesome Moments 1 storyboarded, that means I'll likely not produce this book until next year at the earliest. But there you are.
I shall dedicate a future post to the bestiary. My thoughts on it as a product, and so on.
On Vargenstone… Eh.
I did do final quality work on the south-facing standing and walking torso and head.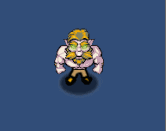 I've discovered I need to double the size of the source graphic and use the GDQuest pencil to achieve the line quality I want. No big deal. And I can occupy myself for hours polishing the graphics up to this level if I choose. But I haven't been able to get momentum going on it.
I haven't followed the plan at all. I suppose I could still 'redeem' the plan by spending all day today and a hefty chunk of tomorrow solely on Vargenstone, but I'm not deeply interested in in trying to retrieve failed plans. I'm more interested in the question of "why did it fail, is there something I can do that wouldn't fail, and am I willing to do that?"