I've been on the same project too long.
2 months building a comic and tinkering with an attached game, for production in the Mad Christian Mondays newsletter. My tolerance for a project maxes out at 2 months. I find one month is optimal.
Worse still, I've been trying to develop a comic/game for Mad Christian Mondays since December. It's only the current iteration that has had 2 months of effort put into it. The project as a whole is closer to four.
It isn't right. With medication, it is possible, but even with medication, I am better served having multiple projects that I switch between. I need to harness my ADHD, and reserve fighting it for critical moments.
I lost a week at the end of March to the burnout. On a whim, I joined Ludum Dare 50 just to try and clear my mind. And my mind has been cleared. John Michael Jones needs to be set aside for a month or two. Which doesn't mean I can't launch the comic and run it — I have more than a month's worth of work built up. Only that it needs to go on the back burner for a while.
In the mean time, I made a game with frogs in it.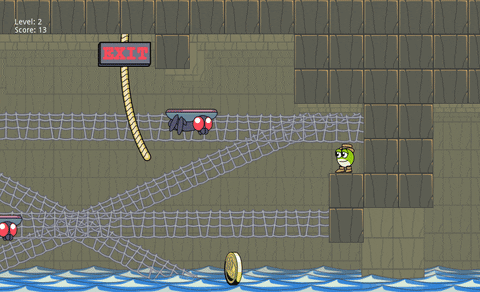 Ludum Dare 50. Waterlogged. It's nothing special. But, for something thrown together by two guys over three days, it is something decidedly okay.
As I push John Michael on to the back burner, I want to note a couple of things for the record:
Right now, the game engine uses HD, hand-drawn vector art. But the comic will put John & friends into a digital world. I half plan to use the HD art game engine for the game world, but a part of me wants to use either pixel art or low-poly 3D art, to really sell that the world is different.

Here are two vector drawings of characters. The first uses a technique where I draw with a tablet and try to imitate my pen and brush inking, then convert this raster image into a rough vector approximation, color, and assemble it. The second, I draw the image in Inkscape directly. The first is slightly closer to how I like my art to look; the second is significantly easier to tweak.
If I am making vector game art, I need to pick a lane and stick to it. But I like them both.
But, so long as I am working on a different project, I don't need to make that choice right away. And, after all, I may decide upon mulling it over to stick to pixel art for the game world/game engine. Who knows at this point? All I know is I need to let it simmer for a month or two.
What should I do this month? Well, a few ideas occur to me.
Could spend a month trying to learn a language. I am currently tinkering with Toki Pona, and I have tinkered with Japanese for years. Sure, if I go all in on Japanese for a month, I won't suddenly know the language. But I will be better at it than I was before.
Always wanted to make a stenotype minigame to teach myself stenotype. It would be a useful product, and would benefit my various life goals.
It's been a few months since I worked on Hat Trick. Some Hat Trick comics, stopping once a week to ink a John Michael Jones comic, might be a good plan.
The Therian Virtual Pet is wildly different from the John Michael Jones stuff. But therians play into that story, so if I started work on it, I would come back to John Michael Jones in a couple months having worked on something different, but still having made progress.
My wife occasionally reminds me that she would enjoy more adventures of Wren Valen the Flying Privateer.
There is something that I also want to note down. When I did the Ludum Dare challenge, I initially published Waterlogged as a Windows game because I already had experience doing so, and I didn't want to get stuck in unfamiliar territory right before the competition ended.
But once I had done that, I re-published it as an HTML5 game that can be played in the browser. And it worked so smoothly and so well I was caught off guard. I think I may want to publish more things this way. Make comics that are animations in game engines, and publish them to itch.io.
It's not any one specific project at the moment. It's just a thought that needs further thinking.